We are serious about making change happen and we have a clear, way-marked route map to follow. This is made up of four focus areas and ten commitments, each of which has a series of action plans associated with it and is clearly measured by KPIs.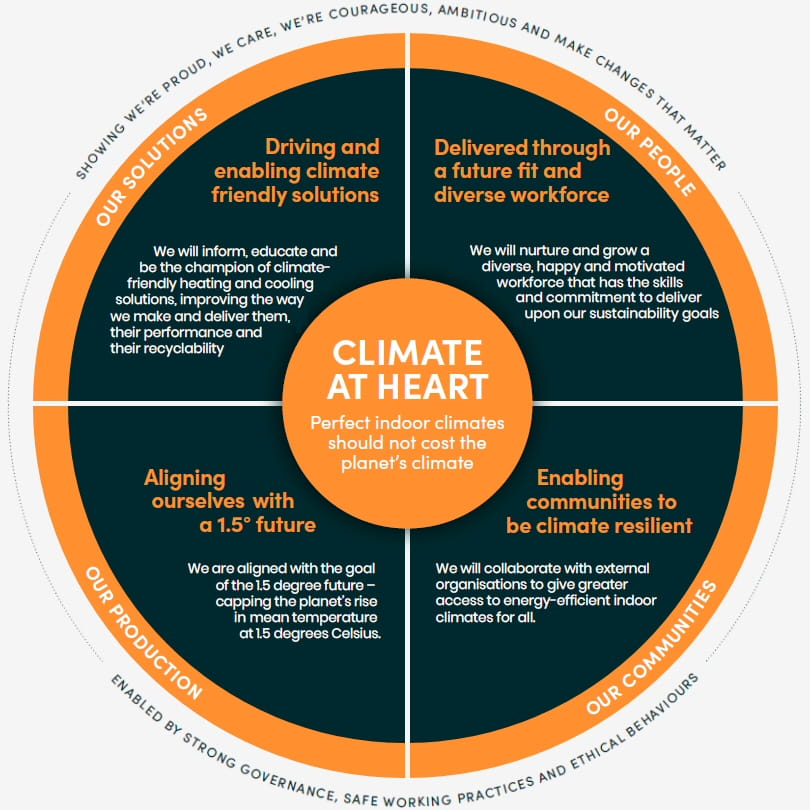 Our four focus areas are our production, our solutions, our people and our communities. They allow us to concentrate our efforts on the most important and urgent priorities, ensuring that change is rapid, continuous and meaningful. We have made ten commitments, each related to one of these areas, and we have ensured that every one is tangible, transparent, measurable and effective. We will be reporting on progress regularly.
Our Production
We are aligning ourselves with the actions needed to help limit global temperature increase to 1.5 degrees. This includes improving the way we make and deliver our products to enhance their performance and recyclability, and making changes to our manufacturing and working environments to make them cleaner and greener. Our first three commitments are within production.
1. Emissions and Energy We have plans in place to achieve carbon neutrality for Scope 1 and Scope 2 emissions in all our plants and operations.
2. Resource Efficiency and Waste This includes identifying ways of using fewer raw materials when making our products and pursuing circularity in our production processes. We are also eliminating waste to landfill, reducing water consumption, and changing our packaging to recycled, recyclable or biodegradable materials.
3. Responsible sourcing We are changing the way we source materials, including steel, brass, plastic and packaging materials. We are committed to a sustainable, responsible supply chain which respects workers' rights and reduces our carbon footprint.
Our Solutions
We are driving and enabling climate-friendly heating and cooling solutions. With the broadest product offering in the industry, we have a unique ability to offer systems, end-to-end solutions and smart products that save more energy. Our next two commitments are to the sustainability of our solutions.
4. Climate-smart choices We have a responsibility to help homeowners better manage their energy use. We will help them make informed choices with clear information about efficient, circular and integrated systems available to them, and the lifetime environmental impact of all our products.
5. Circularity and end of life We will apply circular design principles to all products and are investing in the creation of more circularity-focused solutions. We are developing a donation service so consumers can give us old but functioning systems for renovation or recycling.
Our People
Sustainability begins at home, and we are asking our people to commit to finding sustainability solutions in all areas of work. In return, we are making pledges to them, for their prospects, well-being and happiness. These are the next four of our commitments
6. Diversity, equality and inclusion A healthy business is diverse and inclusive. We are actively increasing the number of women in senior management positions, bridging and eliminating pay gaps and creating a discrimination-free culture.
7. Engagement at work With employee input and involvement, we have implemented programmes focused on internal communication and feedback, learning and development, and health and wellbeing. We are continuously measuring employee engagement to ensure healthy collaboration and a sense of belonging.
8. Employee upskilling Our workforce needs to be future-fit, so all staff are attending relevant upskilling and reskilling programmes. We have created a Sustainability Ideas Challenge to harness the knowledge and insight of staff to generate sustainability-related ideas of all kinds from across the business.
9. Health and Safety Although manufacturing plants have a higher risk of accidents, we have a groupwide zero-accident target. Our health and safety strategy is based on a compliance-first approach to protecting our people, our training is ongoing, and our monitoring and reporting system tracks safety incidents and observations closely to ensure it is constantly top of mind.
Our Communities
We are a part of the communities in which we operate and wherever our solutions are provided. We care about those communities, supporting them with time, products and services. Here is our tenth commitment.
10. Community engagement Energy poverty means many people are unable to enjoy indoor thermal comfort. We are supporting the most vulnerable people in the areas where we operate to become more climate resilient, by donating our time as well as the products and services that can do the most good. We also engage in targeted levels of volunteering and charity work,
These commitments are measured in 24 KPIs. To find out how we're performing, read about our KPIs and progress.