As hybrid heating systems emerge, the quest for the best solution just got a little more interesting. The transition towards more sustainable ways of heating in modern buildings is rife with challenges. While underfloor heating has become very popular in many European countries, there have also been reports of underperformance and high cost. Could underfloor heating benefit from a "sidekick" of sorts?

Mikko Iivonen, R&D Director, Technology and Standards, at Purmo Group, says that combining radiators with underfloor heating could well be the ticket. Iivonen believes that this type of a hybrid solution has many benefits, including a green edge.
"Combined radiator and underfloor heating solutions have already been introduced to the market, and in the 2020's we will see them become more and more common," he says.
Iivonen says that with the hybrid model, underfloor heating is still important; for example, after a shower, underfloor heating kicks in to hasten evaporation of the water on the tiles.
Wanted: Faster heating systems in modern housing
New, energy-efficient buildings, which have been fine-tuned to utilise heat from the sun, household appliances and inhabitants themselves, require heating systems that react fast.
"If the dynamics of the heating system cannot control these thermal gains, the interior temperatures will experience an unwanted increase and energy efficiency will suffer," Iivonen says. On an annual level, the useable thermal gains can constitute around 40% in lightweight single family houses, and as much as 70% in large apartment buildings of the energy used to heat the rooms.
Iivonen points out that underfloor heating has indeed been a big breakthrough in the industry, but it is not without problems when it comes to execution.
"The image of underfloor heating is that it's nice and tidy, and the warm floor feels comfortable under bare feet. The reality, however, is different," he says.
Despite intense marketing that underfloor heating feels warm, most of the time the floor is barely warm to the human touch. Floor warmth is determined by the type of surface materials used, and this is true whether or not underfloor heating is in place.
Also, the need for heating in the normal living rooms is nearly non-existent, except perhaps on the coldest winter days. However, it's a different situation in small bathrooms, for example, where despite high energy consumption, it is desirable to maintain high floor temperatures.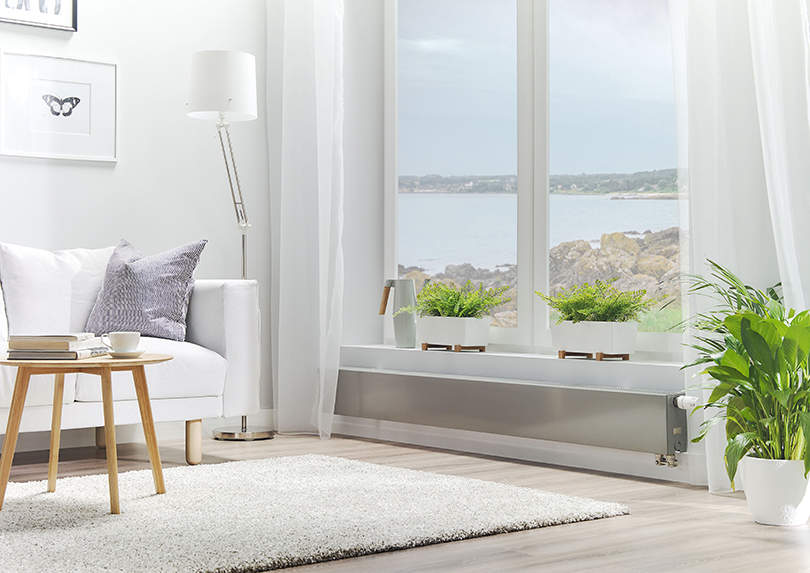 Boost comfort by eliminating draught
Then there's the issue with windows. When it's cold outside, the underfloor heating does nothing to alleviate the feeling of draught in the room.
With the hybrid solution, radiators are positioned under the windows, which would eliminate the cold zone.
"Having radiators in the living rooms and in bedrooms, would make a big difference. As long as people want windows in their homes, radiators can eliminate the persistent problem of draught," Iivonen explains.
"It is clear that in modern, low-energy apartments, radiators perform better – in purely thermal terms – than underfloor heating." However, a underfloor heating system is handy when you need summertime cooling; for instance, feeding low-temperature water into the system will cool the apartments very nicely.
Finding the solutions for the future
Yet, the future can prove to be considerably wilder, as artificial intelligence (AI) becomes further integrated into housing solutions. Iivonen mentions PID controllers (Proportional Integral Derivative) as one example of this.
"These self-learning PID systems learn to operate depending on the time of day and time of season and become more reliable over time as they accumulate more data," says Iivonen, convinced that Purmo Group will be one of the key change agents in the years to come.